Overview 
In our daily life, it is very easy to confuse muscle soreness with injuries. In addition, for different conditions, you should use a different method to treat. An ice pack or heat pack? We guess many people are confused about which one to apply. Today's article is going to introduce the mechanism of an ice pack and heat pack. Here are general conditions. If you get hurt, remember to consult a doctor in the first place before you process the injuries.
In general, for acute injuries without open wounds, it is suggested to apply an ice pack, which includes tumbles, sprains, hit, etc. An immediate ice pack will constrain the nerve to alleviate pain. Now, the ice treatment will improve blood permeability to prevent swelling and exudation. Moreover, ice compress will lower metabolism. Hence, reduces the chances of inflammation and heat pain.
Types of Ice Pack 
Cold spray: 
cold spray is the fastest way to cool down. In the market, usually, it is ready-made to use. You can find it in a sports shop or drugstore.
Ice bucket: 
an ice bucket is usually used for distal injuries, for instance, basketball players.
Ice pack: 
There are two types of the ice pack in the market. One is gel ice pack, and the other is an ice pack without gel. The cold storage capacity of a gel ice pack is five times larger than an ice pack without gel. Ice pack gel features low surface temperature and is unstable. You should be careful when using a gel ice pack.

Speaking of a gel ice pack, NISKA ice pack should be on the list to apply when having soreness or injuries. With double-sided fabric, NIKSA ice pack for the knee protects your knee from frostbite and hurts. One side with silky nylon, the knee ice pack relieves pain fast. In addition, it is reusable and keeps cold longer with the low ice point reaches (-13°F). When in such a low temperature, the ice pack gel for the knee is still very soft and flexible. The volume of the gel ice pack is 30% more than like gel ice packs, maintaining twice longer. The ice pack for the knee comes with 2 traps of hook and loop that can be bound to your knees, or other body parts, free your hands.
Size of the knee ice pack:
Weight: 720g
Length of straps: 25.5"
Size: 13.7 x 9.8 inches''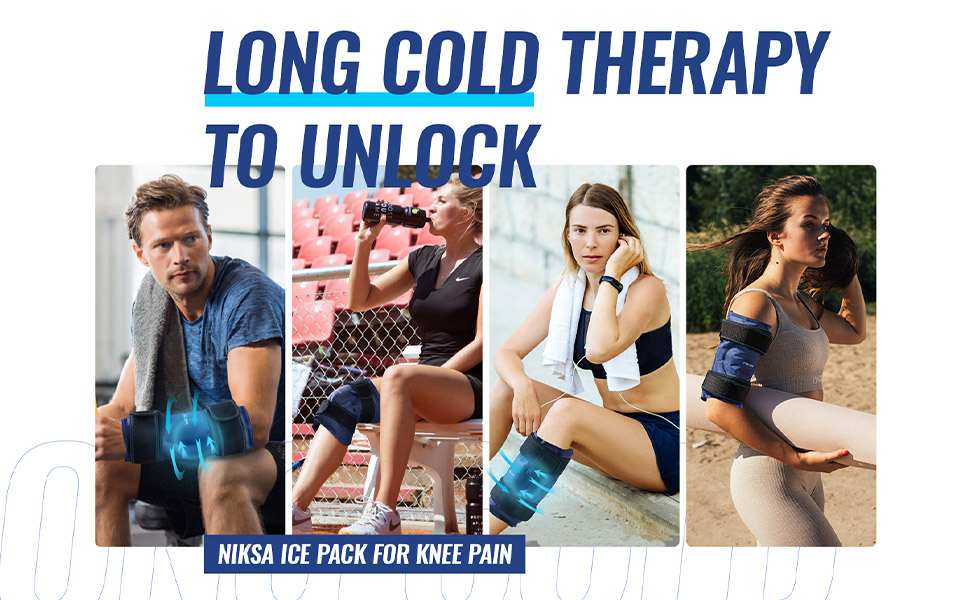 Notes on ice pack:
Time of ice pack:
Every 2 to 3 hours apply the ice pack on. In the event of serious swelling, pain, or fever, every 1 to 2 hours is recommended.
The duration of each ice compress should be controlled by under 15-20 minutes. The duration of each ice treatment should not be too long in case of worsening.
Local of ice treatment: 
It is better to keep an ice pack on the most painful, swollen, or hot locals. For instance, if the knee joint is hurt, the best locals should be the swelling part so that it works on the right and direct location.
Prevention from frostbite: 
It is possible to get frostbite when using ice pack gel. Hence, it is very important to have good prevention.
Others: 
The elderly and infirm, pregnant women, women on period should not use an ice pack, etc.
Types of heat pack: 
Dry heat pack: 
With a hot-water bag, the locals need a heat pack. Control the temperature in a proper range within 50-60℃ when using a heat pack. Check any electric leakage when using. For a heat pack, it is vital to check the temperature anytime in case of any burns. In the event of red skin, stop immediately.
Humid heat pack: 
Soak the towel in hot water and wring the water out. Apply the towel on locals. You can keep the temperature by covering another towel on the hot one. Changes the towel every five minutes. Each heat treatment time should be 15-20 minutes. 3-4 times a day.

Heat pack relaxes muscles, improves blood circulation, and reduces swelling. It is a good way to relieve pain and keep warm.
Notes on heat pack: 
Remember to check and control the temperature in a proper range.
Check the skin color from time to time in case of burns.
Do not heat pack on the same local for a long time, especially for the aged, kids, or persons with a nerve lesion.
Keep warm when finish the heat pack. Do not go out immediately for a cold.
There are advantages to both an ice pack and a heat pack. Learning your injuries in the first place before applying an ice pack or heat pack. Only when you use the right one, the pains and soreness will recover as soon as possible.